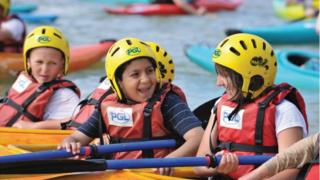 Boris Johnson is being urged to end a lockdown block on residential school visits or risk destroying the "great British tradition" of outdoor education.
Schools have reopened, as have hotels, but official guidance still advises against overnight educational trips.
Outdoor learning "faces an existential threat", providers have told the Prime Minister in a letter.
The rules are under review, governments in England, Wales and Scotland say.
But according to the letter from UK Outdoors, which represents 15,000 people and organisations, the continuing freeze on residential school trips could cost almost 6,000 jobs before January.
The letter adds: "We cannot warn the government in strong enough terms that any decision to prevent residential trips for the rest of the academic year, without support, will permanently close the whole sector."
PGL, perhaps the best known company in the business, has announced 670 job losses, a quarter of its workforce.
Its Marchants Hill centre in Surrey would normally be buzzing with the excitement of more than 750 school children and their teachers – but last Friday, as on every day since the start of the lockdown, it was eerily silent.
Most of the 160 staff have been furloughed, leaving managers Kris Shipway and Kristina Timms to keep the site ticking over, ready to reopen.
"The sadness, that's the biggest thing," says Kris.
"It's about the experiences we're able to give to children… and not to be able to do that has been really hard."
It's a similar story at Rhos y Gwaliau, in Snowdonia, North Wales.
"We've been completely empty for six months now. We've had no children at the site and we've really missed having them here,"
…