Democratic Presidential candidate Joe Biden has increased his Electoral College lead over President Donald Trump, as a projection map shows Arizona and New Hampshire shifting blue.
The projection map, named Sabato's Crystal Ball is created by the University of Virginia's Center for Politics, and the election race ratings "are based on a number of factors, including electoral history, polling, candidate quality, modeling, and reporting," according to the map.
The map shows Electoral College changes for three key swing states, including Arizona, New Hampshire and Georgia. According to the map, Arizona moved from a "toss up" to "leans Democratic," New Hampshire moved from "leans Democratic" to "likely Democratic" and Georgia went from "leans Republican" to a "toss up."
According to Ballotpedia.org, during the 2016 election, Trump won Arizona by 3.6 points but lost New Hampshire to Hillary Clinton by 0.3 points.
The shift to blue in Arizona and New Hampshire push Biden past 270 electoral votes needed as well as increasing his lead over the Republican president.
According to the map, Biden and the Democrats are projected 290 electoral votes, with 13 states listed as "safe Democratic," six states listed as "likely Democratic and five states as "lean Democratic."
In comparison, the map shows Trump and the Republicans having 163 electoral votes, with 13 states listed as "safe Republican," seven states listed as "likely Republican" and just one state listed as "lean Republican."
The remaining five states, Iowa, Ohio, North Carolina, Georgia and Florida are listed as a toss-ups.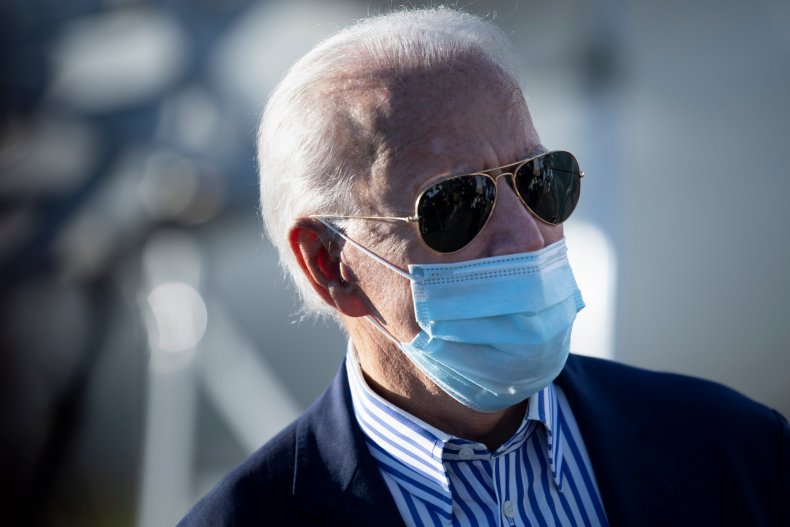 Last week, the Crystal Ball Electoral College projection map showed Biden and the Democrats with 279 electoral votes, while Trump and the Republicans had 179. Eighty electoral votes were toss-ups.
The increase in Biden's Electoral College lead over Trump comes within a month till Election Day, and recent polls have also shown his lead widening over the past few weeks.
Real Clear Politics has tracked the average of several nationally conducted polls and has indicated an increase in the former vice president's advantage, as on September 18, he had an average lead of 5.8 points, but this has since increased to 9.7, in the most updated average.
Five Thirty Eight's average of general election polls also shows Biden's lead increasing as he led by an average of 7.6 points at the end of September but now leads by 9.8 points.
Two recent poll also show Biden ahead of Trump in Arizona and New Hampshire, the two swing states that shifted blue in the Crystal Ball projection map.
One poll conducted by Emerson College found Biden ahead of Trump by seven points in New Hampshire (52 to 45 percent) while a poll conducted by Reuters/IPSOS found the former vice president ahead by two points in Arizona (48 to 46 percent).
Newsweek reached out to Biden and Trump's campaigns for comment but did not receive a response in time for publication.